Indulge in Culinary Delights at Manta on the Big Island
Begin your day in Mauna Kea Beach Hotel, Autograph Collection's open-air bay-view restaurant, home to a legendary breakfast buffet with made-to-order waffles and omelets, tropical fruits and juices, whole-grain cereals and tasty pastries. As the Big Island of Hawai'i sun sets, the ambiance changes as the Bar & Lounge come to life and chefs prepare culinary delights in Manta's exhibition kitchen. Be sure to check for the schedule of live entertainment throughout the year. A live, local jazz duo performs Wednesdays and Saturdays and an award-winning wine list enhances every evening.
(808) 882-5707
|
Breakfast / Brunch, Coffee, Seafood / Steak
|
Under 70 USD
|
Casual
Visit Website
An oceanfront setting of dreams on a stunning soft white sand beach at Kauna'oa Bay. Large accommodations that are sophisticated and serene in one of the most celebrated locations in Hawaii.
Fish are selected each morning at daybreak from the Hawaii fish auction and then prepared with your pleasure in mind.
Enjoy the wide variety of classic meals served at our Italian restaurant on Waikiki. Our fresh bruschetta, timeless spaghetti and mushroom risotto will have you coming back again and again.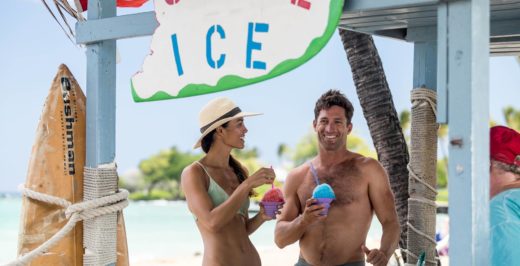 Enjoy beachside shave ice in tropical fruit flavors at Waikoloa Beach Marriott Resort & Spa on the Big Island.