Aloha Friday at Splash Bar with Kamaka Ukulele
Nothing says Aloha Friday in Hawaii like an ono (delicious) Hawaiian cocktail, live music and a little wala'au (talk story) with friends.
Starting May 12, every second Friday of the month Splash Bar at the Sheraton Princess Kaiulani Hotel will offer just that and more to help get you into the Aloha Friday spirit.
Aloha Friday at Splash Bar will offer special dishes and cocktails that highlight local flavors and ingredients.
Once a quarter, Aloha Friday at Splash Bar will also host exceptional guests from the community to share their story and contributions to Hawaii's culture, arts, music and history.
And what better way to kick off the events than with the family whose work contributes to the vibrant Hawaiian music we hear up and down Waikiki Beach: The Kamaka's of Kamaka Ukulele.
Founded in 1916 and celebrating a legacy of 100 years handcrafting Hawaii's finest ukuleles, the Kamaka family and Hawaiian music are synonymous. Their beautifully constructed ukulele are as much a piece of art as they are a musical instrument.
Chris Kamaka, son of founder Samuel Kaialiilii Kamaka's will lead the discussion and a collection of Kamaka ukuleles will be on display for viewing.
Full Day Schedule
From 11:00 AM | Splash Bar
Aloha Friday local plate and featured cocktail offered all day long
(Food and Drink offerings below)
2:00 PM | Lobby
Hawaiian crafters
Lauhala gifts, Hawaiian seed leis and Hawaiian paintings
4:30 PM – 5:30 PM | Pikake Hale/Library
Kamaka Ohana Talk Story
5:30 PM – 6:15 PM | Splash Bar
Kamaka Ohana ukulele performance
Chris Kamaka, Chris Kamaka Jr. and Herb Ohta Jr. are bringing their wonderful music and aloha to the Lava Rock stage to share with guests the joyous sounds of their ukuleles and voices.
6:30 PM | Splash Bar
Kamaka Ohana Talk Story
Unwind after a rousing performance by the Kamaka family and chat with Chris, Chris and Herb about their music.
Aloha Friday Splash Bar Offerings
Featured May Aloha Friday cocktail: Hibiscus Calamansi Rum Punch
Appleton Estate aged jamaican rum, housemade hibiscus syrup, fresh calamansi and lime juice
Price: $8 (plus additional $9 to take home logoed tiki glass)
Regular Happy Hour Specials (11 am – 6 pm)
$4 domestic draft beers, $5 import/craft draft beers and $2 off any glass of wine
Every Friday $8 Mai Tais all day long
Featured May Aloha Friday Local Plate
Coconut porter braised short ribs, Sweet potato puree, Grilled asparagus
Price: $20
Featured May Aloha Friday Dessert
Tropical Napoleon – puffed pastry, guava, custard, whipped cream, strawberries, pineapple, bananas
Price: $8
Prices do not include gratuity or tax.
No cover charge or reservations to attend talk story seminars.
Maximum guests 50 people; seating will be first come, first served
No cover charge or reservations to watch performance at Splash Bar; food and drink purchases are encouraged

Additional Questions
Jesse Suderman Manager, Splash Bar
Jesse.Suderman@sheraton.com –or– (808) 922-5811
Hawaii News Now – KGMB and KHNL
Book a Room:
Receive nightly resort credit on your next Hawaiian vacation. Choose from participating resorts on Kauai, Oahu, Maui and the Big Island.
Fascinating cultural offerings, extravagant shopping, delectable dining, and lively nightlife – all just steps from Waikiki Beach.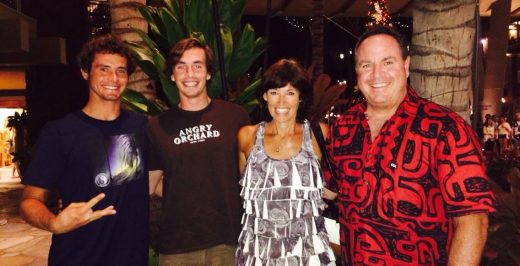 Brad Logsdon has been named complex director of sales and marketing for Sheraton Waikiki and Starwood Hotels & Resorts in Waikiki, as announced by Kelly Sanders, area managing director.
This wish rallied support from more than 40 volunteers who helped bring a fairytale script to life.
The evening was a historical, captivating journey in time that included special moments in the history of the Pink Palace.