An extravagant evening at Azure Restaurant in The Royal Hawaiian
Guest post from our summer intern, Taylor.
Recently I had the special and exciting opportunity to dine at Azure Restaurant located in The Royal Hawaiian, a Luxury Collection Resort. What a treat!
One of my ongoing projects during my internship this summer has been creating and refreshing their restaurant website, so this was the perfect experience to bring it all together and get to learn about the product firsthand.
Take a look at their menu here.
The first thing I would say is to make an early reservation to be able to truly indulge in the fine dining experience.
Our reservation was at 5:30 pm and we left the restaurant at 9:30 pm – just something to keep in mind for planning purposes!
Upon entering, I could already feel the ambiance and private atmosphere the restaurant created.
Although there was a good amount of seating and variety of set-ups, each table still had a private and secluded feeling.
Our waiter, Daniel, was very friendly and informative, taking time to explain the menu to the first-timers (me) and make some recommendations.
Although I don't indulge in libations often, I ordered one of their specialty cocktails called Sake and Elderflower that had fresh pressed lime and cranberry juice.
It was very gentle and came in a pretty light pink hue served in a martini glass. Everyone that tried some loved it.
Sake and Elderflower Cocktail + Hibachi Garlic Kauai Shrimp
After munching on some delicious bread, lavosh and two different spreads (truffle salted butter and clam dip) our appetizers arrived.
These are listed under the 'Small Plates' section of the menu and offer dishes from salad to seafood.
I had the Hibachi Garlic Kauai Shrimp (pictured above) which came with 5 nice-sized shrimp covered in a tasty garlic sauce placed on a medley of mixed vegetables of asparagus, cherry tomatoes, and corn.
These were really flavorful, fresh and just the right portion for a taste of the ono seafood to come.
For my main entrée, I decided to stick with the seafood route since it is the specialty cuisine of Azure.
They have two types of dishes to choose from: Pier 38, which is their local seafood/catch of the day and large plates which offer both meat and seafood options.
I selected the mahi mahi fresh fish from the Pier 38 menu and had it prepared "Island" style.
When my dish arrived, I was in awe of the visual presentation. I almost didn't want to eat it because it was so pretty!
My dish included two pieces of flame-roasted mahi mahi on a bed of mixed vegetables including local sweet corn, Twin Bridges asparagus, and Hamakua mushrooms with a ginger and sesame vinaigrette.
The fish was cooked just right and paired perfectly with the vegetables underneath. But for me, what really made the dish was the ginger and sesame vinaigrette sauce. It added the right amount of flavor and richness to the mahi mahi.
Another great item Daniel recommended was the Tasting Menu, as it provided little samplings of all the best things on Azure's menu.
One guest in our party went with this option, and it included five courses with an optional wine pairing addition.
If you can't decide whether to go with meat or seafood, like her, this is the best of both worlds.
Two others shared the Crispy Whole Fish, which was Uku (long-tailed gray snapper) that evening. Guest heads turned to view the masterpiece as it made its way to our table.
Complete with head and tail, the Uku was impressive. They aren't kidding when they suggest it to be shared among 2-3 people.

I was pretty surprised and proud of myself for finishing all of my meal (this only happens once in a blue moon).
By then I was starting to feel full, but after having bread, an appetizer and main entrée, we decided we had to have dessert (a scoop of coffee gelato) to complete the experience.
Besides as the saying goes – dessert doesn't go to the stomach, it goes to the heart!
Overall, dining at Azure was an amazing experience. It was obvious that each dish was made with the freshest, local ingredients and beautifully presented.
We were also treated to a front row view of the ocean and sunset as we enjoyed our meal.
Special thanks to Chef Shaymus, chef of Azure restaurant, for a wonderful evening of delicious food and fun.
I would highly recommend Azure to any guest looking for a fine dining experience, local seafood cuisine, and an oceanfront location.
Follow #travellingwithtayhawaii on social media for all of Taylor's adventures this summer!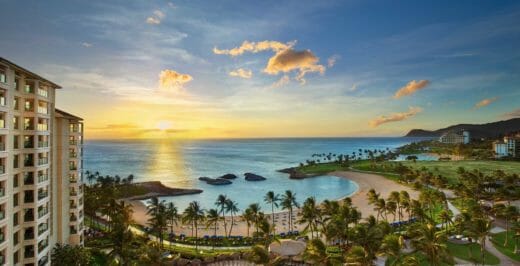 Enjoy 20% off regular rates for stays between March 29 - June 20, 2020.
Re-imagined and revitalized, this iconic pink-hued palace has once again taken its place as Waikiki's grande dame.
The 2016 version of the sculptures are known as "Snowmen on Vacation," according to Jill Harris, one of two Sandsational sculptors.
Starwood Hotels and Resorts Hawaii is committed to giving back to our local community through raising funds to support local charities.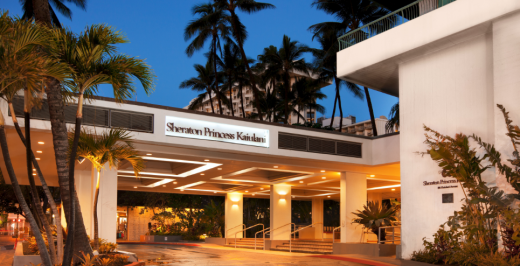 On June 11, 1955 conch shells were blown at exactly twelve noon to mark the grand opening of the newest hotel in Waikiki, the Princess Kaiulani.