Autumn Colors in Paradise
What colors are in your backyard? As the days get cooler and frost is in the air, trees and shrubs put on a show of autumn shades.
Hawaii is famous for having gorgeous weather all year long, and we have seasons too! Subtle, yes, but true.
Here are snapshots of our island's Fall and Winter colors.
Orange combines the energy of red and the happiness of yellow.
Don't just say it, should out with joy – "GOOD MORNING MAUI!"
Look at this magnificent sunrise over the Ocean Tower at The Westin Maui Resort & Spa.
Also displaying spectacular colors is Red Sand Beach in Hana, Maui.
Photo courtesy of The Westin Maui Resort & Spa.
See what colors explode in the Tiki Torch beverage, served at RumFire Waikiki, when our bartenders combine RumFire single barrel rum, Ferrand Dry Curacao, Orgeat and fresh pineapple then set the drink ablaze with Cruzan 151.
Wow – made for guests who can handle serious fun!
Red, the color of love, fire, energy and strength.
Here's a Torch or better known as Red Ginger at The Westin Kaanapali Ocean Resort Villas (Westin Kaanapali).
You will fall in love with or at Westin Kaanapali!
Also at Westin Kaanapali are white Plumeria flowers. In Hawaiian culture, the Plumeria symbolizes positivity and is used in leis or to celebrate special occasions.
When worn in the hair over the right ear means she is available while one over the left means she is taken.
Single guys: look for the wahine (gals) wearing a flower over the right ear!
Don't be shy!
Blending flavors and colors – tropical drinks of paradise served at the Sheraton Princess Kaiulani in Waikiki!
Guests love the umbrella in the drink, true Hawaiian hospitality served at this jewel of a hotel!
Blue is considered beneficial to the mind and body.
Here are dolphins swimming in crystal clear water on the west side of Oahu definitely just enjoying the moment!
Everyone recognizes the famous "Pink Palace of the Pacific," The Royal Hawaiian.
Here's a splash of pink and sky blue color with soft white clouds that we describe as pure bliss.
More blues, and greens!
A sea of colorful fish swimming freely fronting Sheraton Maui Resort & Spa. Are you feeling relaxed now?
From the natural colors of the sea to the rich earth tones of the Na Pali Coast on the island of Kauai, you'll be amazed at the wide variety of colors that can be found on this rugged terrain.
Photo courtesy of Sheraton Kauai Resort.
Plan a vacation to Oahu, Maui, Kauai or the Big Island to color your world with vibrant island hues.
Receive nightly resort credit on your next Hawaiian vacation. Choose from participating resorts on Kauai, Oahu, Maui and the Big Island.
Vacation residences offering a full complement of amenities and resort services, plus all the comforts of a luxury home.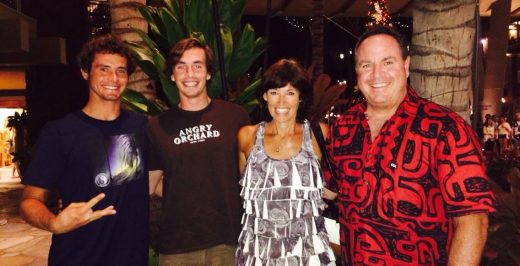 Brad Logsdon has been named complex director of sales and marketing for Sheraton Waikiki and Starwood Hotels & Resorts in Waikiki, as announced by Kelly Sanders, area managing director.
This wish rallied support from more than 40 volunteers who helped bring a fairytale script to life.
The evening was a historical, captivating journey in time that included special moments in the history of the Pink Palace.