Chef Shaymus Alwin Tapped for Appearance at Renowned James Beard House
Chef Shaymus Alwin of Azure Restaurant at The Royal Hawaiian, a Luxury Collection Resort, is set to become the only chef from O'ahu to appear at the iconic James Beard House in 2016.
Chef Alwin is preparing to bring a taste of the islands to the Big Apple on Friday, September 9 with his menu of locally sourced ingredients, including abalone and lobster from Hawaii Island.
Since 1986, the House has been an integral meeting place for America's food community, and honors the country's diverse culinary heritage.
The House is funded by the James Beard House Foundation whose mission is to celebrate, nurture and honor America's diverse culinary heritage through programs and educate and inspire.
In that spirit, the James Beard House hosts more than 250 events annually ranging from tastings to workshops.
In May, Maui's Isaac Bancaco was a featured chef at the House, becoming the first chef from Hawaii this year at the House.
Joining Chef Alwin will be Royal Hawaiian chefs Jeremy Shigekane (executive sous chef) and Carolyn Portuondo (executive pastry chef), plus Azure Restaurant General Manager Dante Camara.
Chef Alwin's special menu on September 9 begins at 7 p.m. with a cocktail reception in the garden of the House, which is located in the West Village neighborhood.
Cocktail Hour Passed Items:
Hearts of Palm Chawanmushi
Peaky Toe Crab, Maine Uni, Nasturtium
Hawaii Ranchers Beef Tartare
Gochujang, Coriander, Poppadum
"Abalomi"
Kona Abalone, Lomi Heirloom Tomato, Chili Water
(Paired with Palm d'Or Champagne 2002)
Dinner
First Course
Keahole Lobster and Brioche
Meyer Lemon Preserve, Truffle Aioli, Chervil Brown Butter
(Paired with The Hilt Chardonnay The Cool Hand 2014)
Second Course
Truffle Scented Jerusalem Artichoke Vichyssoise and Kauai Shrimp
Compressed Cucumber, Cauliflower Panna Cotta, Smoked Trout Roe
(Paired with Wirshing Silvaner Trocken 2014)
Third Course
Crispy Skinned Onaga
Hirabara Farms Radish, Hamakua Maitake Mushroom, Sweet Corn Croquette, Foie Gras Dashi
(Paired with Muller Catoir Riesling 2014)
Main Course
Hawaii Ranchers Ribeye of Beef
Marrow Dauphine, Ali'i Mushroom, Taro, Kabayaki Butter
(Paired with Fontanes La Petite Serine 2013)
Dessert
Frankie's Compressed Pineapple Butter Rum Cake
Hawaiian Vanilla Bean, Haupia Panna Cotta, Macadamia Nut Crunch
And
Volcano Honey Ice Cream
(Paired with Kuentz Bas Pinot Gris Vendage Tardive Caroline 2010)

The cost of the dinner is $135 per person for James Beard House members and $175 per person for the general public.
Reservations for the dinner can be made directly on the James Beard House website.
To be considered for the event, all chefs must be first commended by other distinguished chefs, volunteer program committee members or other involved parties.
All Chefs are cordially invited by the director of house programming based on their national or regional reputation, their originality as well as their aspiration to succeed.
All nominees must submit a complete event menu and wine list that will be revised by the Chef Selection Committee.
"Hawaii is an important part of America's culinary scene and after receiving Chef Alwin and Azure's menu and wine list, we knew they'd be an exceptional fit to help us celebrate this country's cuisine," said Izabela Wojcik, director of house programming for the James Beard House.
For those who cannot make it to New York City in September, Chef Alwin and his team are presenting a special Preview Dinner at Azure on Thursday, September 1 with part of the proceeds from dinner going to the James Beard House Foundation.
That dinner will feature select items from the September 9 dinner.
The cost of the Preview Dinner on September 1 is $120 per person (inclusive); to make reservations for this special Preview Dinner, find Azure Restaurant on Open Table and indicate the reservation is for the James Beard House Preview Dinner.
Reservations for the Preview Dinner can also be made by calling Azure General Manager Dante Camara at (808) 341-5709.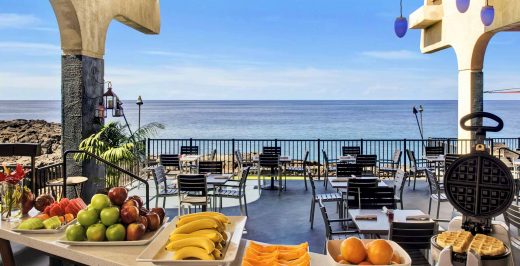 Enjoy daily breakfast for two at participating resorts on Kauai, Oahu, Maui and the Big Island.
Re-imagined and revitalized, this iconic pink-hued palace has once again taken its place as Waikiki's grande dame.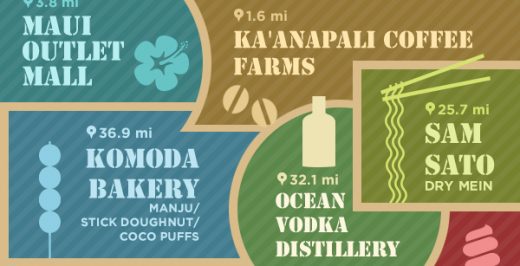 We polled some of our Starwood Hawaii resort team members to find out some of their favorite places to hang out.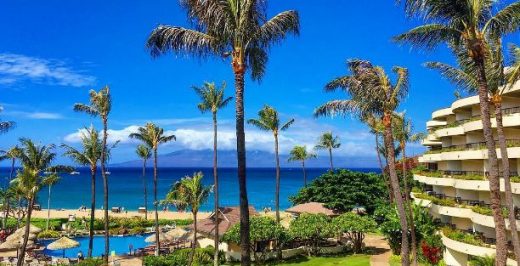 This week's top guest social pics feature the stunning views from guest room balconies.
The Splash Bar at the Sheraton Princess Kaiulani Hotel recently launched it's new menu and we're loving everything about it.