Dreaming of Oahu This Weekend?
Happy Friday! This week's Top 5 Instagram Photos feature two of our Waikiki properties: Moana Surfrider, A Westin Resort & Spa (@the moanasurfrider) and The Royal Hawaiian, a Luxury Collection Resort (@royal_hawaiian).
Introduced in 1901, the Moana Surfrider is known as the "First Lady of Waikiki" and embraces true Hawaiian hospitality as a Westin Resort & Spa.
With contemporary amenities and one-of-a-kind services, this oceanfront hotel is a legendary landmark.
Another iconic hotel in the heart of Waikiki is The Royal Hawaiian, also called the "Pink Palace of the Pacific."
Enjoy your vacation in style and ultimate luxury at this historic hotel located on the popular Waikiki Beach.
Afternoon Tea at the Veranda is always a great idea.
Offered from 12-3 p.m. daily, indulge in sweet pastries, savory bites, and select from six locally crafted teas.
Hope you had a tea-riffic afternoon!
Waikiki is just as stunning at night as it is in the day.
We can definitely agree with @iamoffthetrack 's hashtag #LuckyWeLiveHawaii.
Surf's up at the Moana Surfrider!
A perfect moment captured by Suzette (@suzettelipscomb) at sunrise on Monday morning.
These boards are ready to head out and catch some waves.
As one of the most popular views of the Royal Hawaiian for photos, this scenic area has recently become extra special with the new launch of the PokemonGo app!
If you're in search of a new gym to battle, here's a hint.
For other Pokemon sightings on property, check out our blog post here.
Pink umbrella, pink smoothie, pink pancakes – what more could a girl ask for?
Great foodie photo captured by @kumiko1204 at the Royal Hawaiian's Surf Lanai.
There's so much to experience in Waikiki! Plan a visit now here!
Receive nightly resort credit on your next Hawaiian vacation. Choose from participating resorts on Kauai, Oahu, Maui and the Big Island.
Re-imagined and revitalized, this iconic pink-hued palace has once again taken its place as Waikiki's grande dame.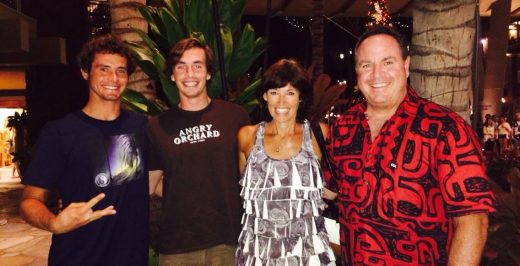 Brad Logsdon has been named complex director of sales and marketing for Sheraton Waikiki and Starwood Hotels & Resorts in Waikiki, as announced by Kelly Sanders, area managing director.
This wish rallied support from more than 40 volunteers who helped bring a fairytale script to life.
The evening was a historical, captivating journey in time that included special moments in the history of the Pink Palace.