Go Beyond Waikiki Featuring Chie Fiesta
From beautiful beaches to the year-around warm tropical weather, Hawaii is such a special place for many reasons. But the one thing that truly sets Hawaii apart from any other destination around the world is aloha spirit. While aloha expresses love, compassion or kindness and is often used as a simple greeting; in our Sheraton 'ohana the aloha spirit is a commitment to our guests and a promise to go beyond for them each and every day.
Whether helping you plan a day full of activities, mixing up the perfect Mai Tai by the pool or keeping your room clean our Sheraton ohana is here to make sure your stay is truly memorable from check in to check out. Going beyond for our guests is what we do best!
We value the opportunity to recognize associates who go beyond on the job and in the community. This week we are proud to feature Chie Fiesta who works at the Sheraton Waikiki's GIFT amenity store as our #MahaloMonday associate of the week.
Chie has worked at Sheraton Waikiki for four years but has been a part of the legacy Starwood Waikiki Ohana for 17 years, having worked at the Moana Surfrider, a Westin Resort and Spa for 13 years prior. As a truly dedicated Sheraton Associate, Chie strives to make a positive impact on our guests' experiences with every guest she meets.
Chie has the opportunity to meet and build relationships with our return guests on a regular basis as an associate who works in our Amenity Store. Recently, Chie was able to find an opportunity to really WOW one of our return guests, the Stewarts. When she first met them a few years ago they shared with her how they were pleasantly surprised to find locally made Lilikoi Waialua Soda in the GIFT amenity store as it's a product that they would usually go out of their way, out of Waikiki, to purchase each year.
When Chie heard they were coming back, she remembered her first interaction with the Stewarts and their love for Lilikoi Waialua Soda. Unfortunately, at this time the flavor had been discontinued in our amenity store so she teamed up with her colleagues on the Guest Experience Team who ran out to the local store to purchase the soda and provide it to the guest as a welcome back gift–extending them a warm aloha and return to the property.
We're proud to have associates like Chie who make connections with our guests and make sure to take care of them year after year, upon their return!
Find out from Chie what it means to go beyond as well as to her top recommendations for what to do on Oahu while on vacation:
Q: What does Going Beyond mean to you?
A: To me, Going Beyond means that you understand and fulfill guests' expectations but also give them that extra WOW with something they did not expect.
Q: What's your favorite beach on Oahu?
A: I actually love looking at Waikiki Beach with Diamond Head in the background. It really makes me feel "Lucky we live Hawaii."
Q: What's your favorite local treat that you'd recommend visitors to try before they leave?
A:Haupia! Lots of our visitors cringe at the idea of eating coconut, but they really need to taste this delicious dessert!
Q: What's your favorite activity you recommend to guests visiting on Oahu?
A: Get away from the hustle and bustle of Waikiki and head over to North Shore and see their beautiful beaches, and local stores you can't find in Waikiki.
The Sheraton Waikiki is proud of Chie as she goes beyond by building relationships and sharing her love of the Hawaii with our guests.
We Go Beyond so you can too.
Receive nightly resort credit on your next Hawaiian vacation. Choose from participating resorts on Kauai, Oahu, Maui and the Big Island.
The "First Lady of Waikiki" welcomes guests with the grace of a bygone age and the comforts of a modern, world-class landmark.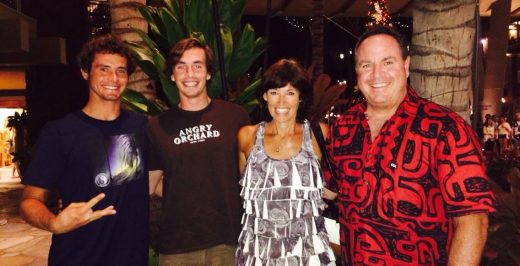 Brad Logsdon has been named complex director of sales and marketing for Sheraton Waikiki and Starwood Hotels & Resorts in Waikiki, as announced by Kelly Sanders, area managing director.
This wish rallied support from more than 40 volunteers who helped bring a fairytale script to life.
The evening was a historical, captivating journey in time that included special moments in the history of the Pink Palace.