Go on an Epicurean Journey at The Royal Hawaiian, A Luxury Collection Resort
For more than 90 years, The Royal Hawaiian, a Luxury Collection Resort has inspired transcendent journeys of sophistication and glamour.
After celebrating their 90th anniversary year with a transcending Gala, "The Night They Opened the Royal" benefiting ALS Association in Hawaii, our culinary team is creating another can't-miss event.
The Pink Palace of the Pacific has become the destination for a new Epicurean Journey pioneered by Executive Chef Colin Hazama.
The first of four culinary events designed to captivate gourmands' palates takes place on Friday, March 31 with an intimate chefs' wine dinner and on Saturday, April 1 with an interactive cooking session and lunch with The Royal Hawaiian Chefs.
Each of the four events is themed separately with the first one titled "Roots & Vines". 
The Epicurean Journey was carefully considered in collaboration with Executive Sous Chef Chris Kirksey, Azure Chef de Cuisine Shaymus Alwin and Executive Pastry Chef Carolyn Portuondo.
The following is the menu for "Roots & Vines" on Friday March 31 at 6 p.m. at Azure Restaurant.
Pre-Dinner Small bite
"Ho Farms Baby Beet Cured Kampachi"
Ikura Zuke & Pickled Daikon + Matcha Tea Soba Crisp + Smoked White Dashi Gelee
(paired with Breton Delitante Vouvray Sec NV)
 "Clover Leaf Farm Spring Salad"
63d Farm Egg + Frisee + Tendrils + Chicharrón +Heirloom Ho Farms Radish +
Champagne Honey Vinaigrette
(paired with Filiboa Albarino 2010)
"Uncle Gerald's Kauai Shrimp Etouffée"
Kiawe Smoked Tasso Ham + Shrimp Essence + Toasted Rice Cracker + Pickled "Holy Trinity"
(paired with Dr. F Weins Prum Riesling)
"Bar Cottage Lobsta Bake"
Uncle John's Clam Fritter + Stuffed Mussel + Supah Sweet Kahuku Corn + Twin Bridge Farms Red Bliss Potato + Naked Cow Dairy Scented Butter
(paired with Patz and Hall Chardonnay Sonoma)
"Popo's Star Anise Braised Oxtail"
Pickled Kai Choy & Hasu + Jasmine Tea Jook + Crispy Bone Marrow + Ginger Sumida Watercress Pesto + Wailea Ag Citrus Peanut Gremolata + Sichuan Peppercorn Red Wine Essence
(paired with Heartford Court Lands End Pinot Noir)
"Deconstructed Lemon Pie"
Ka'u Orange Yuzu Flexi curd + Torched Vanilla Bean Meringue + Coconut Sable + Ho Farms Baby Carrot Cremeux + Wailea Meyer Lemon Preserve
(paired with Royal Tokai 2008)
On Saturday April 1, you are invited back to join the chefs for a lively cooking class and luncheon at the resort's Regency Room beginning at 10 a.m.
This event will focus on the traditional Japanese New Year's soup, ozoni.  The menu for Saturday's "Roots & Vines" Epicurean Journey includes:
Cooking Demo
Traditional Ozoni
Araimo, Hasu, Gobo, Daikon, Carrots, Shiitake Mushroom, Tokyo Negi,
Organic Chicken, Mizuna, Mochi 
How to make Ozoni, traditionally served on New Year's Day.
 "Ho Farms' Ozoni"
Interactive cooking demo
Watermelon Radish, Baby Carrots, Butternut Squash, Chinese Long Beans, Eggplant,
Organic Chicken, Ho Farms' Rainbow Chard, Puffed Mochi Rice
Family Style Luncheon
"Ho Farms' Tomato & Baby Beets Salad"
Marinated Tomatoes, Pickled Roasted Beets, Sumida Farm's Watercress,
Naked Cow Dairy's Fromage Blanc, Candied Orange Balsamic Reduction
"Ho Farms' Fish & Chips"
Beer Battered Mahi Mahi, Beet Ketchup, Ho Farms' Yuzu Pickles, Long Bean Fries
"Kamameshi Rice"
Smoked Hamachi, Tobiko, Edamame, Shiso, Crispy Garlic
"Ginger Beet Hibiscus Elixir"
Young Ginger Beer, Hibiscus Kaffir Lime Syrup, Beet Powder
The Epicurean Journey series will continue in June, September and December with the following themes and dates:
"Misfits" – Friday, June 30 and Saturday, July 1:
This event will showcase deformed or neglected produce, fish, seafood, meats that aren't known for being the primal, popular cuts, but they are somehow mysteriously undiscovered and have a delicate, rich value when prepared and showcased properly.
"Archipelagos" – Friday, September 29 and Saturday, September 30:
This event showcases the Hawaiian archipelago and each course focuses on a specific part of the island chain using products sourced solely from that area, reflecting earth and sea on the plate. The chefs also hope the dinner will also inspire guests to think about their travels to other archipelagos around the world and how those regions have inspired cuisine.
"The Royal Feast" – Friday, December 15 and Saturday, December 16:
The final Epicurean Journey of the year will be a Royal Feast – a meal fit for a King or Queen with the dinner set in The Royal Hawaiian's stunning Presidential Suite, the Kamehameha Suite.
The per-person prices for "Roots & Vines", "Misfits", and "Archipelagos" Epicurean Journey events are inclusive and include tax and gratuity and are as follows:
Friday dinner and Saturday experience: $250 (no wine) and $280 with wine pairings.
Friday dinner only: $150 (no wine) and $180 with wine pairings
Saturday experience: $100 (no alcohol) and $130 with wine and/or sake/Shochu pairings
The prices for the last Epicurean Journey event "The Royal Feast" are currently priced as follows:
Friday dinner and Saturday experience: $295 (no wine) and $325 with wine pairings.
Friday dinner only: $195 (no wine) and $235 with wine pairings
Saturday experience: $120 (no alcohol) and $150 with wine pairings
Reservations for "Roots & Vines" or any of the upcoming ones can be made by calling the Dining Reservations Desk at (808) 921-4600. Event dates, themes and prices are subject to change.
Receive nightly resort credit on your next Hawaiian vacation. Choose from participating resorts on Kauai, Oahu, Maui and the Big Island.
Re-imagined and revitalized, this iconic pink-hued palace has once again taken its place as Waikiki's grande dame.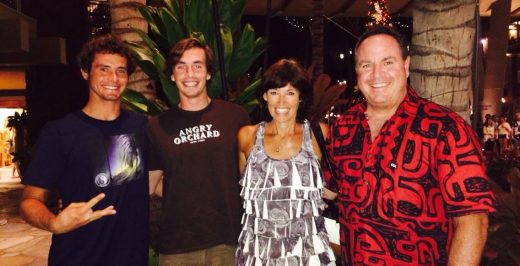 Brad Logsdon has been named complex director of sales and marketing for Sheraton Waikiki and Starwood Hotels & Resorts in Waikiki, as announced by Kelly Sanders, area managing director.
This wish rallied support from more than 40 volunteers who helped bring a fairytale script to life.
The evening was a historical, captivating journey in time that included special moments in the history of the Pink Palace.