Service with aloha plus a little good old fashion Hawaiian hospitality!  When you're at the Splash Bar you can expect nothing less from our outstanding team of servers and bartenders.  Whether you're having a bad day, celebrating a special occasion or just enjoying pau hana (after work) cocktail there's no way you can leave the Splash Bar without a smile.
Eric Tiu at the Splash Bar is not just a great bartender when you're craving a tropical cocktail, he's also the go to guy whenever a guest is looking for something fun to do.  From beach recommendations to hikes, restaurants and more, he's always willing to help you plan your perfect day exploring Waikiki and beyond.
"I love to travel and it's always fun to talk to our guests and see what they have planned for their vacation in Hawaii.  They always ask for recommendations too so over the years I've created a mental list of things to do and places to check out I can share with them" says Tiu.  He goes on to explain, "At the end of the day we want to make sure the guests are having a fun vacation and if we can help mkae it memorable that makes us at the Splash Bar feel great!"
Eric is just one of the many friendly faces at the Splash Bar and we promise you won't be disappointed if you decide to stop by next time you're in Waikiki!  Keep reading for Eric's recommendations for what to do and where to go when you visit Oahu, plus what it means to him to #GoBeyond.
Q: What does it mean to Go Beyond? A: "Going beyond is all about making the guest feel welcomed and making their day better, especially if they're having a bad day!"
Q: What's your favorite thing about working at the Splash Bar? A: "Getting to meet visitors from all over the world and hearing about their time in Hawai'i."
Q: What's your favorite drink to make at the Splash Bar? A: I like the Fu Man Chi, it has a haupia (coconut) creme we put on top and it's so good!"
Q: What's so special about the Sheraton Princess Kaiulani Hotel? A: We have a great team and the best guests who come back and visit us every year.  We all become friends at the Splash Bar."
Q: What's your favorite beach on the island? A: "Probably Waimea Beach on the North Shore when the waves aren't too big.  You have to check out the North Shore when you visit Oahu."
Receive nightly resort credit on your next Hawaiian vacation. Choose from participating resorts on Kauai, Oahu, Maui and the Big Island.
Fascinating cultural offerings, extravagant shopping, delectable dining, and lively nightlife – all just steps from Waikiki Beach.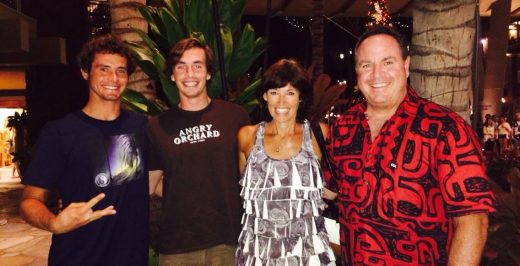 Brad Logsdon has been named complex director of sales and marketing for Sheraton Waikiki and Starwood Hotels & Resorts in Waikiki, as announced by Kelly Sanders, area managing director.
This wish rallied support from more than 40 volunteers who helped bring a fairytale script to life.
The evening was a historical, captivating journey in time that included special moments in the history of the Pink Palace.