Royal Hawaiian Celebrates 3nd Annual Makahiki Celebration
Makahiki is a celebration of peace and prosperity and all the good things in Hawai'i, and yesterday marked the 3nd Annual Royal Hawaiian Makahiki  on the grounds at Helumoa.
As the gentle waves of Waikīkī kissed the shore, the call of the pu, or conch shell, announced the arrival of Lono, the Hawaiian god of peace, prosperity, fertility and healing, by wa`a (canoe) at Kahaloa, the beach fronting the Royal Hawaiian.
Lono was welcomed with oli ho`okipa (chants of welcome) by Kahuna Kalama Cabigon and Manu Boyd.
The Huaka`i – procession of Lono, dignitaries, ceremonial participants and guests proceeded to the Coconut Grove. This ancient clearing was known as Kahuamokumoku and was the exact site of the Makahiki games in ancient Waikīkī.
Ho'okupu were then offered to Lono by ceremonial participants and dignitaries.
Kelly Sanders, Area Managing Director, Starwood Hotels and Resorts Waikīkī and Josh Hargrove, Acting General Manager and Director of Rooms of the Royal Hawaiian, A Luxury Collection Resort opened the Makahiki Event at the Coconut Grove with `Ōlelo Ho`okipa – welcoming remarks, followed by acknowledgments given by Shad Kane, cultural consultant, historian, and Makahiki convener.
Stories of O`ahu Makahiki traditions, and the Helumoa coconut grove were then shared by Shad Kane and Manu Boyd, of the Kamehameha Schools Hos1okahua Cultural Vibrancy Group and renowned Kumu Hula. Their Mo`olelo was enjoyed by all.
The Makahiki Games were officiated by The Royal Order of Kamehameha and Pālehua Nā Koa. Children of all ages from one year to ninety nine enjoyed sharpening their skills as they participated in the four Hawaiian games – `Ulu Maika(stone disk rolling, Moa pahe`e(wooden dart sliding), Haka moa(one-legged wrestling), and `Ō`ō ihe(spear throwing).
The top 3 winners of each event were given beautiful tabletop kahili in recognition of their accomplishments. These kahili are very special made by the hands of our Shad Kane, cultural consultant, historian, and Makahiki convener.
During the course of the event our guests enjoyed the cultural practitioners on the Coconut Lanai – Lau Hala Weaving; Hawaiian Kapa; Hawaiian war weapons, Hawaiian Art, Feather and Shell, and Lomi Lomi with the haumana of Ka Pā Ola Hawai`i.
The Royal Hawaiian Makahiki 2015 came to an end at 11:45am. The blessings of akua and our ancestors of old were bestowed upon us.
A delicious lunch was then enjoyed by invited guests and kôkua.
Receive nightly resort credit on your next Hawaiian vacation. Choose from participating resorts on Kauai, Oahu, Maui and the Big Island.
Re-imagined and revitalized, this iconic pink-hued palace has once again taken its place as Waikiki's grande dame.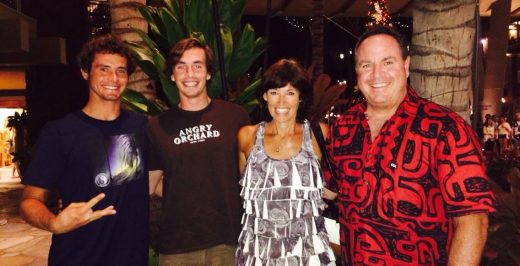 Brad Logsdon has been named complex director of sales and marketing for Sheraton Waikiki and Starwood Hotels & Resorts in Waikiki, as announced by Kelly Sanders, area managing director.
This wish rallied support from more than 40 volunteers who helped bring a fairytale script to life.
The evening was a historical, captivating journey in time that included special moments in the history of the Pink Palace.