Nilo Badua Wins Kaua'i Top Mai Tai Challenge at RumFire Poipu Beach

A 10-week competition between Kaua'i bartenders concluded with Nilo Badua winning the Kaua'i Mai Tai Challenge, hosted by Sheraton Kauai Resort and Young's Market Company of Hawaii.
Badua was declared the champion following a four-hour final competition at the resort's signature restaurant, RumFire Poipu Beach.
Badua's winning Mai Tai was inspired by his family who traveled from the Philippines to Hawai'i to work for the sugarcane plantations.
His Plantation Mai Tai featured Mount Gay Extra Old Rum, Whaler's Original Dark Rum, fresh lime juice, falernum, sugarcane juice, lemongrass simple syrup, and seasonal ingredients.
Drawing inspiration from the island's farmers markets, Badua tweaked his recipe by adding homemade mountain apple juice and lilikoi (passion fruit) kombucha in the final round of competition.
The cocktail was garnished with a slice of starfruit, toasted macadamia nut and a piece of dry ice for a memorable presentation.
Badua, who represented Kalapaki Joe's in the competition, was awarded two nights in an Ocean Front Suite at Sheraton Kauai Resort and a $100 dining credit at RumFire Poipu Beach.
The resort's next rum-inspired event will be its 3rd Annual RumFest at RumFire Poipu Beach on Friday, August 14th, in advance of National Rum Day.
For more information about Sheraton Kauai Resort and RumFire Poipu Beach, visit www.sheraton-kauai.com or call (808) 742-1661.
Receive nightly resort credit on your next Hawaiian vacation. Choose from participating resorts on Kauai, Oahu, Maui and the Big Island.
An oceanfront location on Poipu Beach with an array of exhilarating water sports and a setting that invites you to indulge in luxury.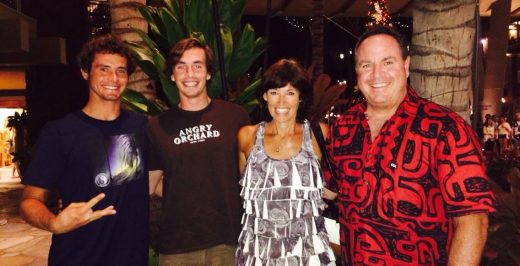 Brad Logsdon has been named complex director of sales and marketing for Sheraton Waikiki and Starwood Hotels & Resorts in Waikiki, as announced by Kelly Sanders, area managing director.
This wish rallied support from more than 40 volunteers who helped bring a fairytale script to life.
The evening was a historical, captivating journey in time that included special moments in the history of the Pink Palace.