Royal Hawaiian Named Best Historic Resort in the U.S.
The Royal Hawaiian, A Luxury Collection Resort in Waikiki, was named Best Historic Resort at the annual Historic Hotels of America 2014 Awards of Excellence gala Thursday in Wash., D.C.
"Historic Hotels of America is proud to congratulate the 2014 Awards of Excellence winners," said Lawrence Horwitz, executive director of Historic Hotels of America and Historic Hotels Worldwide, in a statement.
"These historic hotels and hoteliers represent the pinnacle in historic hotels and their achievements from Portland, Maine to Waikiki Beach."
Entered hotels were nominated by fellow members, past award recipients, and honorees, and were judged by a panel of experts to determine a winner.
"This recognition from historic hotels of America is extraordinary for the Royal Hawaiian a Luxury Collection resort. All of the ambassadors at the Royal are thrilled as we continue to tell the stories that make our guest experiences so special. I was especially excited when my daughter Michelle and son-in-law Drew were able to attend the event in Hershey Pennsylvania and personally except the award on our behalf. It was a proud moment for our Royal Hawaiian Ohana!" said Royal Hawaiian General Manager Kelly Hoen.
Historic Hotels of America is an official program of the National Trust for Historic Preservation, and as such, seeks to provide recognition of excellence to travelers, civic leaders, and the global cultural, heritage and historic travel market across America.
Re-imagined and revitalized, this iconic pink-hued palace has once again taken its place as Waikiki's grande dame.
Pastry Chef Nanako Perez Nava and her team at the Moana Surfrider, A Westin Resort & Spa are planning another edible Christmas display.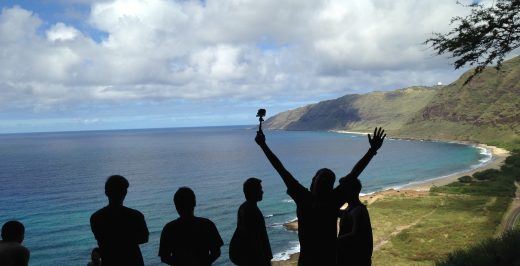 If you're itching to do something besides the typical tourist activities and you're up for the challenge, take on one (or all!) of these hikes.
The perfect place to enjoy a sumptuous brunch or dinner buffet with the family on Christmas!