Guest post from our summer intern, Taylor.
Having busy weekends and lots of plans are great, but every person also needs "me time."
This past weekend was mine!
As I begin to wrap up my internship experience, I was tasked with the extremely difficult assignment of going to the Moana Lani Spa and experiencing a treatment.
Rough life being an intern…
But all in all, it's really about work-life balance. Work hard, play hard!
On Sunday, I went to the Moana Surfrider for my first spa experience, a hot stone massage!
I was super excited and in need of some rest & relaxation, but also a bit nervous about what to expect as a first timer.
My treatment was at 1 p.m. so I arrived at 12:30 p.m. to allow myself time to check-in, get settled, and relax beforehand.
What I really appreciated was that the confirmation email I received after booking my treatment included helpful information (like arriving early and using the wet facilities) to make the most of my experience.
Upon entering the spa, I was warmly greeted by the receptionist and immediately felt more comfortable.
After checking in, she led me to the waiting room where I filled out my intake form.
Another spa associate then gave me a tour of the spa facilities.
There is a women's pathway and men's pathway, both being identical in layout. She first showed me the locker room, which held a robe, spa slippers, and ample space to safely store my belongings.
The spa also has a fully stocked shower room, bathroom, steam room, dry sauna, and whirlpool.
I'd highly recommend arriving early to enjoy these facilities before your treatment.
I used the steam room and whirlpool to warm up my muscles and increase circulation and had them all to myself at the time.
My favorite feature of the Moana Lani spa was the relaxation lounge complete with chaise lounge chairs, comfy sofas, floor to ceiling windows, and refreshments including water, tea, fruits, and light snacks.
Soft, peaceful music played throughout the room while the sounds of the ocean and crashing waves added even more tranquility.
The room overlooks the famous Waikiki Beach so you can soak in the view of the ocean and Diamond Head as you relax.
My massage therapist, Patti, met me at the relaxation lounge and escorted me to my private, oceanfront room where I would receive my massage.
She was extremely friendly and made me feel so much more comfortable just through the way she interacted with me and smiled.
I slipped under the sheets while Patti stepped outside and she brought back a bowl of oil, which I chose, to smell during the massage.
The hot stone massage is a 45-minute full body treatment that involves the use of smooth stones that are heated and covered in oil and then used to massage the back, arms, and legs.
You can find more information on their other treatments here.
My particular treatment, the hot stone massage, had the option of selecting from four different oils depending on how I wanted to feel after the massage.
I chose 'destress and relaxation' option, but the others included rejuvenation and muscle stiffness.
At first, I wasn't sure how the massage would go as my body is more sensitive to massages than the norm.
I don't like much pressure so I was a little worried I wouldn't be able to enjoy it…
But I was pleasantly surprised with the massage!
Patti used just the right amount of pressure that was perfect for my body.
She also expressed to let her know if I wanted more or less pressure, or more or less heat and made sure I was comfortable throughout the duration of the massage.
The massage was done in sections starting from the back, using the stones to add pressure and heat.
There were always warm stones used during the massage and even placed alongside my body and in my hands, which I liked.
As you can tell, I didn't want it to end!
The low lit room and sounds of the ocean were so relaxing – I could've easily fallen asleep.
Once my massage was complete, Patti left the room and allowed me to take my time getting up and dressed.
A warm robe was left for me, an especially nice touch, to continue that relaxation feeling.
I was also pleasantly surprised to find Patti waiting for me outside the room with a cup of water – so nice!
She walked me back to the lounge and made a few recommendations to try based on the oils I chose for my massage.
What I love about the Moana Lani Spa is that you have all-day access to the spa on the day of your treatment, so you can come as early as you'd like and go as you please.
I decided to relax in the lounge for a few hours after my massage and read, to take full advantage of my time there.
My first spa experience was amazing! It couldn't have gone any better.
I loved the hot stone massage and how it was a two in one -massage + heat.
It was the perfect way to unwind.
The Moana Lani Spa staff were so friendly and helpful and made my spa experience as a first timer so easy and comfortable.
I would definitely suggest arriving early and making a full day out of it!
Follow #travellingwithtayhawaii on social media for all of Taylor's adventures this summer!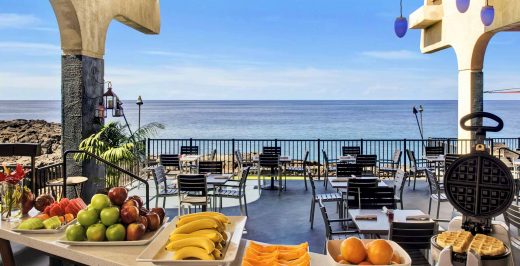 Enjoy daily breakfast for two at participating resorts on Kauai, Oahu, Maui and the Big Island.
The "First Lady of Waikiki" welcomes guests with the grace of a bygone age and the comforts of a modern, world-class landmark.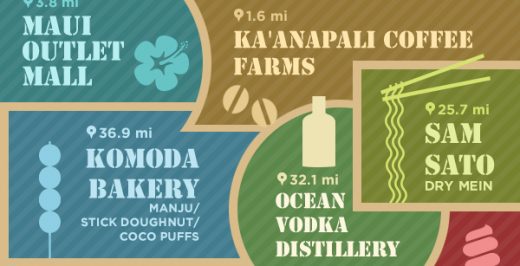 We polled some of our Starwood Hawaii resort team members to find out some of their favorite places to hang out.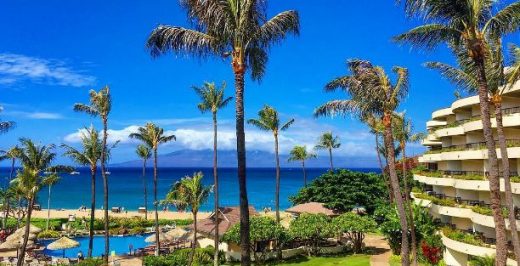 This week's top guest social pics feature the stunning views from guest room balconies.
The Splash Bar at the Sheraton Princess Kaiulani Hotel recently launched it's new menu and we're loving everything about it.