Sheraton Princess Kaiulani Celebrates the Holidays with Eight Festive Specialty Cocktails
With the Holiday Season in full-swing, Sheraton Princess Kaiulani invites both visitors and Kamaaina to celebrate this year's festivities with eight new unique concoctions.
Cocktails on the new festive cocktail menu start at $5 and will be available for a limited time from December 14 to December 25, 2014; Mocha Mint Freeze will be available until December 31 at Splash Bar and Bento located next to the hotel's Pikake Terrace Restaurant.
In the midst of holiday shopping and chores, these holiday cocktails were created by Sheraton Princess Kaiulani to bring extra holiday cheer.
Sheraton Princess Kaiulani's holiday cocktails menu includes:
Sugar and Spice
Tequila, Grand Marnier, orange slices, and lime
***
Pomegranate Spritzer
Sparkling water and pomegranate CQ
***
Cranberry Orange Mimosa
Sparkling wine with a splash of cranberry or orange
***
For the Love of Cinnamon
Fireball whiskey and amaretto
***
Winter White Russian
White Russian with candy cane
***
Hawaiian Holiday
Champagne with a splash of pineapple
***
Irish Peppermint Coffee
Irish coffee and peppermint
***
Mocha Mint Freeze
Bailey's Irish crème, Kahlua coffee liqueur, mint, Pina colada, chocolate syrup
Families are also invited to view the beloved Gingerbread Village created by Executive Chef Ralf Bauer located near Splash Bar and Bento.
Over 800 hours has been spent by the hotel's dynamic culinary team in designing, constructing and assembling this year's Gingerbread Village.
The final masterpiece features a two-level village measuring approximately 18 feet long and over 14 feet in height.
The culinary team used over 140 pounds of dark chocolate, 80 pounds of white chocolate, 80 sheets of gingerbread, and 300 pounds of icing to create this magnificent winter village.
After enjoying this year's edible display of gingerbread, families are invited to Splash Bar and Bento for holiday cocktails for adults and hot chocolate with gingerbread cookies for keiki to enjoy.
Sheraton Princess Kaiulani won "Orbitz Best Decked Out Holiday Hotel" in 2009 specifically for the Gingerbread Village.
For more information, please call Sheraton Princess Ka'iulani at 808-922-5811 or visit www.princess-kauilani.com.
Fascinating cultural offerings, extravagant shopping, delectable dining, and lively nightlife – all just steps from Waikiki Beach.
Pastry Chef Nanako Perez Nava and her team at the Moana Surfrider, A Westin Resort & Spa are planning another edible Christmas display.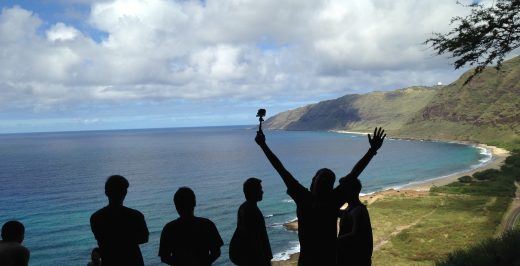 If you're itching to do something besides the typical tourist activities and you're up for the challenge, take on one (or all!) of these hikes.
The perfect place to enjoy a sumptuous brunch or dinner buffet with the family on Christmas!