Starwood Summer Pool Series: Dive in to Maui's Best Pools
Summer is here and that means it's all about spending less time indoors and more time splashing around at your favorite beach or pool.
Hawaii has the best beaches, and we're spoiling guests with our pools too!
We're kicking off our Hawaiian summer with a little Starwood Hawaii pool roll call.
We formerly shared the best pools in Oahu and best pools in Kauai.
It's now time for the best pools in Maui!
Sheraton Maui
Number of pools: 1
Sheraton Maui Resort & Spa features a 142-yard fresh water swimming lagoon that meanders through tropical gardens and under wooden bridges.
An outdoor Jacuzzi set amidst lava rock formations and waterfalls cascading from lush tropical flower beds assure you that you are in Hawaii.
With depths from one foot in our Keiki (Kids) Pool, to eight feet throughout the lagoon, guests of all ages will enjoy our water oasis.
The pool is open daily from 8:00 am until 8:00 pm and we provide towels for our guests at no charge.
Two poolside bars complement each end of the water system with tropical refreshments and hot barbecue specialties served throughout the day.
A professional pool staff provides professional tanning consultation, towels, cabana and gazebo rentals for refuge from the warm Ka'anapali sun.
The Westin Maui
Number of pools: 5
Pool Fun for All
Fronting famed Ka'anapali Beach with year-round sunshine and tropical breezes, The Westin Maui Resort & Spa is the place to celebrate a fun vacation in Hawaii.
Fresh from a multi-million dollar reinvestment that included new guestrooms and suites, this beachfront resort abounds with ways to rejuvenate.
A key feature is its magnificent aquatic playground with five outdoor pools and cascading waterfalls, a free-form Jacuzzi, two exciting water slides, a swim-through grotto and hidden whirlpool.
Recognized by TripAdvisor readers as one of the Top Ten Jaw Dropping pools worldwide, the 87,000 square-foot of splashing paradise is surrounded by acres of lush landscaped gardens.
While kids and teens go wild over the resort's family-friendly pools including the 128-foot drop water slide, couples seeking cozy downtime can unwind at the adults' only pool or reserve spacious pool gazebos with thirst-quenching refreshments.
Named after the Hawaiian Islands, each of the three-tiered pools present a distinctive experience. At beach level are the inter-connecting pools of Maui and Molokai with aquatic fun such as water basketball, water volleyball and even aquacise for fitness enthusiasts.
The close proximity of these pools to Relish Burger Bistro and Relish Bar make them ideal for poolside meals as well as tropical cocktails and beers. At mid-level, the pools of Kauai and Lanai inter-connect through a swim-through grotto hidden by waterfalls.
These pools are ideal to enjoy views of the neighboring islands and are mere steps away from the shimmering Pacific Ocean.
There are ample pool deck chairs as well as pool cabanas for two and spacious gazebos for group get-togethers and additional privacy.
Nearby is Seadogs snack shop serving cool and refreshing snow cones with multi-flavors, popcorns and more.
At the uppermost level is the Oahu serenity pool situated 40 feet above the beach.
Reserved for adults and teens ages 16 and above, this pool area provides panoramic vistas of the warm Pacific and the islands of Lanai and Molokai.
Two pool gazebos offer couples an intimate setting to enjoy a day in sunny Maui or indulge in a spectacular sunset dinner for two, with personalized service.
There are also three newly-introduced cozy pool cabanas for two, in addition to comfortable pool deck chairs.
Completing the offerings are a free form adults-only Jacuzzi as well as a Beach Bar serving delightful appetizers and innovative cocktails.
The adult pool holds approximately 100,000 gallons of water and is surrounded by cascading waterfalls and exotic botanicals.
Brief descriptions are noted within its scenic gardens to identify native Hawaiian plants and others introduced by Polynesian voyagers.
It certainly lends a distinctive feature to the resort's pool surroundings, providing guests a cultural experience through its landscaped features.
For a unique wedding experience, couples are invited to take the plunge by booking the "Splash into a New Beginning" wedding ceremony held atop the thrilling water slide.
Posted by Starwood Hawaii on Saturday, June 6, 2015
The Westin Ka'anapali
Number of pools: 3
The Westin Ka'anapali Ocean Resort Villas offers several beautiful recreation lagoons and heated swimming pool. Also a dedicated keiki (children) pool with a Pirate Ship.
There are also four outdoor whirlpools available.
The resort offers a variety of classes and instruction in our south pool including tropical water fitness.
https://www.instagram.com/p/2pR4ihI46w/
Receive nightly resort credit on your next Hawaiian vacation. Choose from participating resorts on Kauai, Oahu, Maui and the Big Island.
Vacation residences offering a full complement of amenities and resort services, plus all the comforts of a luxury home.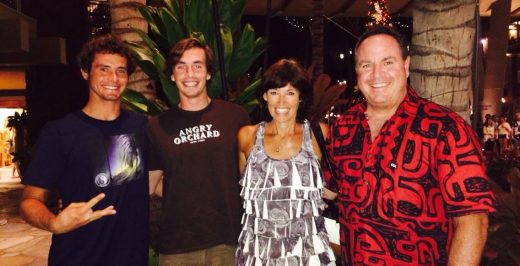 Brad Logsdon has been named complex director of sales and marketing for Sheraton Waikiki and Starwood Hotels & Resorts in Waikiki, as announced by Kelly Sanders, area managing director.
This wish rallied support from more than 40 volunteers who helped bring a fairytale script to life.
The evening was a historical, captivating journey in time that included special moments in the history of the Pink Palace.