Sustainability at Starwood Hawaii
Sometimes it takes a global perspective to see the bigger picture of people, planet and profit.
With a triple-bottom- line approach in mind, Starwood Hotels & Resorts is driving sustainability by operating its properties with agility and evolving with the changing needs of its guests, the environment and the communities in which it operates.
In 2007, Starwood began collecting environmental data on all of its properties around the world. Two years later, the data became the baseline for Starwood's landmark environmental initiative 30/20 by 20, which calls for a 30 percent reduction in energy use and a 20 percent reduction in water consumption per built hotel room globally by 2020.
Starwood formed a strategic partnership with environmental nonprofit Conservation International to develop engagement programs and drive environmental awareness across its brands and properties.
It also added a goal to reduce its carbon emissions by 30 percent in the same time frame.
"As the first global hospitality company to aim to reduce energy and water usage per built hotel room, we asked all our owned and managed hotels to work towards our sustainability goals by implementing reduction methods that enhance the guest experience," says Starwood Regional Director of Sales and Marketing David Richard.

"Our guests are choosing brands that reflect their desire to reduce the global footprint. Our brands have long been a champion of sustainability and we are excited to meet and exceed their expectations to ensure a successful future."
To meet its goal, Starwood has made energy and water- usage reductions utilizing low-cost upgrades such as high-efficiency LED lighting and low-flow fixtures, as well as capital improvements installing energy efficient mechanical systems such as air conditioning, heat pumps and exchangers.
Starwood is also integrating sustainable and social responsibility practices into its food and beverage operations and meeting practices.
Guests can even participate in the company's sustainability effort through the Make A Green Choice program.
Starwood Hotels & Resorts' global sustainability initiative is leading the hospitality industry to a new model of business and guest experience.
Its eleven Hawai'i properties are shining examples of the environmental responsibility that defines 30/20 by 20.
DOING MORE TO CONSUME LESS
SHERATON KAUAI RESORT
The Sheraton Kauai Resort introduced a number of sustainability measures during its $16 million revitalization in 2012.
Energy-saving variable speed drives are used in the resort's various water features and in the chiller plant on the ocean side of the property.
Motion-sensor lights  and power-management systems reduce energy use in maids' closets and low-flow showerheads control water consumption in the resort's guest bathrooms.
In-room air conditioners automatically power off when the sliding-glass doors are open and adjust temperature settings based on arrival and departure times.
The food and beverage department recycles waste cooking oil and donates food scraps to a local livestock farm for feed.
Local fish, produce and greens are incorporated into the dining and banquet menus whenever possible. Sheraton Kauai's sustainability efforts also include beach cleanups, an annual Maluhia Tree Tunnel cleanup and the ongoing Table 53 fundraising program at RumFire Poipu Beach, in which all food and beverage proceeds from
the restaurant's table number 53 go to a different Kaua'i charity or nonprofit every month.
The program has raised more than $120,000 since its inception in October 2012, benefiting local organizations such as Kauai Hospice and Kauai United Way.
"As a member of this small island community, it is important for us to be green and continue developing sustainable practices." 

—Chip Bahouth, General Manager
OFF THE GRID
THE WESTIN PRINCEVILLE OCEAN RESORT VILLAS
Situated on a lush bluff overlooking Kaua'i's north shore, The Westin Princeville Ocean Resort Villas recognizes the importance of reducing its carbon footprint as one of the island's largest resorts.
In the spring of 2015, The Westin Princeville completed installation of an onsite cogeneration plant that now supplies 90 percent of the resort's electricity and 100 percent of its water heating.
The combined cooling, heat and power (CCHP) system powers the 18.5-acre property's eight buildings using five highly efficient generators, utilizing the thermal-energy byproduct of this process for heating and cooling throughout the resort.
The energy is channeled through a large heat exchanger into the plant's hot-water recirculation system.
The system pipes water to an absorption chiller to air condition the resort's two-story clubhouse in addition to meeting the heating and domestic hot-water needs of The Westin Princeville's four pools, three whirlpools and 346 guest villas.
The multimillion-dollar project has cut the resort's utility cost dramatically.
"We recognize that the vitality of the resort is directly linked to the vitality of the community where it operates."

—Denise Wardlow, General Manager
FARM TO TABLE
SHERATON WAIKIKI 
Sheraton Waikiki is leading the charge for local  food in Hawai'i hotels and restaurants.
In addition  to completing a dramatic redesign and extensive overhaul of its facilities in early 2011, the newly revamped resort launched a food and beverage program emphasizing locally sourced ingredients.
Sheraton Waikiki partnered with the Hawai'i Farm Bureau to rally support for House Bill 1471 and has since led the industry in bridging the gap between gourmet dining and local agriculture.
Upon passing in July 2011, the bill established a food certification pilot program that coordinates purchasing agreements between local agricultural cooperatives and buyers in Hawai'i's visitor and hospitality industries.
Farm-fresh dining is the centerpiece of Sheraton Waikiki's sustainability initiatives.
General Manager Kelly Sanders has set a goal of incorporating at least 60 percent local ingredients into the resort's world- class dining venues, which include its new pool bar, the Edge of Waikiki, revamped hotspot RumFire and the open-air Kai Market.
Inspired by Hawai'i's ethnically diverse plantation-era cuisine, Kai Market features authentic island flavors using 70 to 80 percent locally sourced ingredients, including herbs and spices harvested from three vertical gardens in the restaurant's central dining area.
The locavore staple is Hawai'i's first farm-to-fork buffet, offering a bounty of fresh, local fare in an oceanfront setting overlooking the resort's stunning infinity pool and iconic Waikiki Beach.
"Guests not only experience a taste of Hawai'i, but also understand what they are eating at our restaurants and how it was harvested."

—Darren Demaya, Kai Market Executive Chef
ACROSS THE BOARD
MOANA SURFRIDER, A WESTIN RESORT & SPA
Just as it set a standard for Hawaiian hospitality upon opening in 1901, Waikiki's first hotel is setting a standard for environmental stewardship in Hawai'i.
Moana Surfrider approaches sustainability as an ongoing process rather than a tangible objective—one that involves integrated efforts in energy efficiency, conservation and waste reduction.
The resort earned the Hawai'i Department of Business, Economic Development and Tourism's Green Business Award in 2009 for its comprehensive environmental initiatives.
In addition to reducing waste through resort-wide recycling, charitable donations and other waste- diversion measures, Moana Surfrider is committed  to minimizing its environmental impact by advocating sustainable business practices and employing reusable and biodegradable materials in its meeting and event venues.
Back-of-the-house initiatives include printing on 50 percent recycled-content paper, utilizing digital advertising as an alternative to print media and working toward a 30 percent reduction in marketing collateral.
Low-flow plumbing fixtures, energy-efficient lighting, insulating window film and automated appliances curtail water and energy consumption throughout the property.
In 2009, Moana Surfrider installed $2 million worth of energy-efficient mechanical infrastructure, including an 800-ton cooling tower, a 540-ton high-efficiency chiller, heat pumps and energy-saving variable-frequency drives.
The resort was recognized the following January, February, August, September and October for achieving the greatest energy reduction of any Starwood resort in North America.
AHEAD OF THE CURVE
THE ROYAL HAWAIIAN, A LUXURY COLLECTION RESORT
Conservation has long been a part of daily operations at the Royal Hawaiian, but the iconic Pink Palace of the Pacific has renewed its commitment to sustainability through early adoption of innovative new measures in energy, water and ocean conservation.
The resort's "Pink is the New Green" initiative outlines continued environmental action strategies in support of Starwood's vision for sustainability and global citizenship, including targeted efforts to foster a sense of environmental stewardship among hotel ambassadors and guests.
Thanks to extensive renovations executed during the property's $60 million transformation into a Starwood Luxury Collection Resort, the Royal Hawaiian/Sheraton Waikiki complex ranks first for energy efficiency among Starwood resorts nationwide.
From upgrading to more energy-efficient appliances to installing a rooftop solar thermal system on the resort's Mailani Tower, the Royal Hawaiian is redefining luxury as a quality synonymous with environmental responsibility.
Five percent of guests participated in the Royal's green room program when it was first introduced; 30 to 50 percent now opt out of daily laundering in the interest of sustainability.
Eighty percent of the hotel's fare arrives fresh from Hawai'i farms and fisheries, and the resort's ocean-to-table
Azure restaurant—the crown jewel in the Royal Hawaiian's sustainable food and beverage initiatives—features local produce and seafood selected each morning from the Honolulu Fish Auction.
THE ENERGY STAR
SHERATON PRINCESS KAIULANI
Many Hawai'i residents are familiar with energy efficiency and have taken simple steps—using CFL or LED light bulbs and energy efficient appliances— to save energy in their homes.
For the effort it takes to make a three-bedroom home energy efficient, can you imagine what it would take to make a 1,000- room hotel highly energy efficient?
Sheraton Princess Kaiulani associates did just that and implemented an energy management program to upgrade the 60-year-old hotel into Hawai'i's first hotel to receive the Environmental Protection Agency and the U.S. Department of Energy, Energy Star Award.
A team of energy experts developed solutions to reduce energy usage from the heating, cooling and lighting equipment, which draws the most energy.
Air conditioning typically accounts for 35 percent of a hotel's electrical consumption, so high efficiency air conditioning chillers were installed.
To reduce gas usage by 50 percent, heat pumps and exchangers to recover waste heat for hot water were also installed.
Lighting represents about 22 percent of electrical consumption, so the hotel switched to energy efficient light bulbs throughout the hotel.
Once the major energy draws were reduced, the team was able to save even more energy by installing energy-saving smart thermostats and energy glass or window film in all the guest rooms.
Match unparalleled energy efficiency with many other sustainable initiatives and you have a hotel proud to carry the state's Green Business in Hawai'i certification.
REUSE, RECYCLE, REGENERATE
SHERATON MAUI RESORT & SPA
Nestled on the legendary Black Rock headland, the Sheraton Maui Resort & Spa spans 23 oceanfront acres, flowing gracefully from the crest of Pu'u Keka'a to the shores of Ka-'anapali Beach.
Over 420 of its 508 rooms and suites directly face the Pacific Ocean and feature private lanai for contemplating the serene view.
While many people only see a turquoise ocean and white-sand beach, resort associates are working hard behind the scenes to preserve the pristine beauty of the land and ocean through daily sustainable practices.
Beyond the core energy efficiency and water conservation initiatives are a handful of extremely important recycling efforts that protect the natural environment and give back to the community.
From the guest rooms, all of the HI-5 and non-HI-5 recyclable items are sorted each day and picked up for recycling.
Partially used bath amenities are donated to social welfare organizations and even old pillows and blankets are donated to the Maui Humane Society and Salvation Army instead of being thrown away.
All of the food waste from the resort's food and beverage outlets is donated to a local food waste service program, which distributes it to local pig farmers for feed.
The resort recycles cardboard and paper on a weekly basis and all the landscape waste from continual upkeep is picked up on a weekly basis and recycled into mulch.
Sometimes it's the culmination of the seemingly small efforts that yield big results and beautiful views.
SHINE ON YOU CRAZY DIAMOND
THE WESTIN KA'ANAPALI OCEAN RESORT VILLAS
For the past eight years, The Westin Ka'anapali Ocean Resort Villas has been recognized as one of Maui's most environmentally conscious businesses.
The AAA Four Diamond resort continues to push well beyond its commitment to implement day-to-day sustainable practices with educational programs, outreach and by raising environmental awareness among its guests, business partners and the community.
The effort has garnered the resort a long list of awards and accolades for its sustainable initiatives including 'Aipono's Excellence in Sustainability, TripAdvisor's Bronze GreenLeader and the American Resort Development Association's Green Sustainable Program within a Resort award.
Since 2008, the resort has been supporting the restoration and protection of Hawaiian cultural resources in Honokowai Valley and Kaheawa Wind Farm, where resort associates and guests team-up on a quarterly basis to participate in the ongoing restoration projects clearing invasive plants and planting native species with Maui Cultural Lands.
The resort also celebrates Earth Day and Earth Hour each year, a global grassroots movement to take positive actions for the environment and pledge to live a more sustainable lifestyle to end climate change.
To further this goal, the resort also participates in beach cleanups throughout the year with guests and resort associates.
Internally, The Westin Ka'anapali Ocean Resort Villas sustainability council meets regularly to create strategies to reduce the company's environmental impact and hosts associate awareness events to educate the staff on energy efficiency, water conservation and minimizing waste
"At The Westin Ka'anapali Ocean Resort Villas, we believe we have a kuleana to ma-lama ka'a-ina. From all aspects of the resort—fuel and water usage to transportation to cuisine— we have a strong commitment to the environment." 

—AngelaNolan,General Manager
THE COMPLETE KITCHEN
THE WESTIN MAUI RESORT & SPA
The Westin Maui Resort & Spa Executive Sous Chef Ikaika Manaku has long been a proponent of sourcing ingredients for his island-inspired dishes from Maui farmers.
Chef Manaku wanted to go beyond serving Kula-grown strawberries and Maui Gold pineapples to resort guests.
He envisioned a more sustainable kitchen that could not only create delicious dishes using local fare, but also give  back to the community and operate more efficiently.
Chef Manaku sees food preparation as a cycle, a relationship between farmer, chef and diner.
To complete the farm- to-table circle, he formed a partnership with a local food-waste service program, which distributes the resort's edible waste to local pig farmers for feed.
He also partnered with Maui-based Pacific Biodiesel to recycle the used cooking oil into biodiesel fuel.
Next, Chef Manaku switched to biodegradable take-out containers to lessen the impact on the island's landfill.
Chef Manaku's efforts in the kitchen and the community also have a very polished, public presentation.
He served as co- chairperson of the 2014 Ka'anapali Fresh: 'Aha'aina O Ka'anapali food and wine festival, presiding over the opening event held at the resort's Aloha Pavilion.
The three-day festival featured Maui-inspired cuisine paired with local farms and international wines and spirits.
Thanks to the collaborative efforts of independent restaurant chefs and hotel chefs in
Ka'anapali including Chef Manaku, Ka'anapali Fresh evolved into Hawaii Food & Wine Festival in 2015.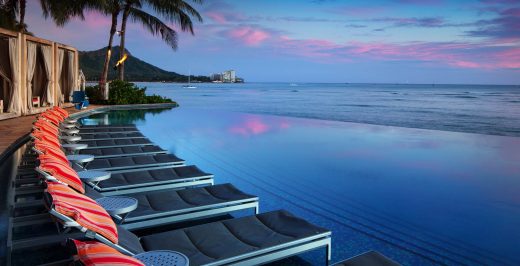 Members enjoy 20% off accommodations, plus 35% off spa and dining at select outlets.
Elevate your senses at our inspiring cliffside oasis, where exhilarating adventures, restorative relaxation, and an ocean views await.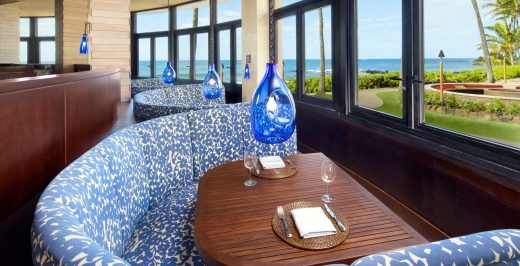 RumFire Poipu Beach will proudly celebrate the Table 53 program's 4th Anniversary in October 2016.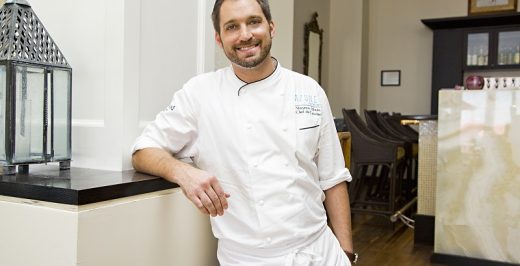 Azure offers the tastiest seafood on the island with an oceanfront ambiance of exquisite relaxation for a captivating dining experience beyond compare.
On the Garden Island, guests will be Walking in a Westin Wonderland at The Westin Princeville Ocean Resort Villas with many seasonal festivities.