Guest post from our summer intern, Taylor
It may come as a surprise that an island girl like me has NEVER been to an authentic luau or Polynesian show in the past 22 years.
It's one of those things that in the back of my mind I know will always be there so I've never felt rushed to do it. B
But, since I'm currently working in Waikiki, I wanted to take advantage of the opportunity to explore the hustle and bustle!
The Te Moana Nui show is performed at the Sheraton Princess Kaiulani every Sunday, Wednesday and Friday evening, only a short 10 minute walk from my office in the Sheraton Waikiki.
But if you're planning on walking there be sure to allow yourself some extra time – I'm sure you'll want to pop into a few of the retail stores along the way.
I met up with Kaitlyn, who currently works at the Sheraton Princess Kaiulani and is also coincidentally a classmate from high school.
We we're both excited to experience our first dinner and Polynesian show.
Our evening began at the Pikake Terrace with an amazing dinner buffet (I made sure to limit my snacking throughout the day).
There was everything from crab legs and prime rib to teriyaki chicken, poke, and more.
Here's what my plate looked like – I literally tried to get a little of everything since it all looked so yummy. And I obviously had to have dessert too!


We enjoyed our meal poolside accompanied by beautiful hula and ukulele entertainment then headed up to the Ainahau showroom to check out the activities and crafts.
There were 3 stations:
'Ohe Kapala: The Hawaiian art of stamping
Na Pua U'i: Flower sewing and lei making
Tatau Pasefika: Ancient art of Polynesian tattoo
Each table was crowded with families and what was awesome was that the Te Moana Nui performers were running the crafts and activities.
It was a fun, interactive way for the audience to engage with the cast. I would suggest checking out the Polynesian tattoo station – they are temporary and drawn in sharpie, but they're impressive!
Te Moana Nui means the vast ocean. Within the hour long show, a cast of about 15 members tell the stories of Polynesia through narration, dance, and song.
All the performers had beautifully themed costumes for each piece, including the band that provided live music throughout the evening.
Some of the audience favorite pieces included the haka (a type of ancient Maori war dance) and the fire dancer – you'll know exactly what I'm talking about when you see it.
I don't want to give away too much of the show, but you can expect authentic hula and Tahitian dancing, a cool fire performance, and great story-telling.
I would highly recommend it to both locals and visitors! For me, I really enjoyed the Te Moana Nui show for three reasons:
 I was able to learn about our culture and history in an entertaining way
It made me reminiscent of the days I used to dance hula in high school – it truly is a beautiful and symbolic way of storytelling.
All of the staff and cast members were extremely welcoming and friendly, really emulating the aloha spirit.
At the end there is a chance for a meet and greet with the performers – here's a picture of Kaitlyn and I with some of the dancers.
Te Moana Nui is just one of many cultural experiences offered in Hawaii. Here are other attractions you can find at our neighbor island resorts:
OAHU
Aha'aina Luau at The Royal Hawaiian – Meaning "to gather for a meal", the Aha'aina Royal Luau, is Waikiki's only oceanfront dinner show celebrating the heritage and history of the sacred land that the resort sits upon. The Aha'aina Luau is offered every Monday evening.
MAUI
Maui Nui Luau at Sheraton Maui – Located on Ka'anapali Beach, the Maui Nui Luau offers a full dinner and show or cocktails only option. Cindy W. wrote this review of the luau on TripAdvisor:
Wailele Polynesian Luau at The Westin Maui – Witness the elements of earth, wind, and fire come together to tell the stories of Polynesia with highlights including the story of Pele, Goddess of Fire, a new performance dedicated to Wailele, and Maui's only extreme fire-knife dance finale.
KAUA'I
Aulii Luau at the Sheraton Kauai – The Aulii Luau is Kauai's only true oceanfront luau, located just steps from the sand on Poipu Beach. Enjoy an evening traveling through Polynesia and learn about Kauai's history and culture through dances and traditional Hawaiian cuisine. Offerings include an array of pupus, poke, kalua pork, fresh fish, and local-style grilled chicken.
Follow #travellingwithtayhawaii on social media for all of Taylor's adventures this summer!
Receive nightly resort credit on your next Hawaiian vacation. Choose from participating resorts on Kauai, Oahu, Maui and the Big Island.
On Kaanapali Beach at legendary Black Rock, this seaside resort boasts guest rooms with fresh-air lanais and views plus a sumptuous spa.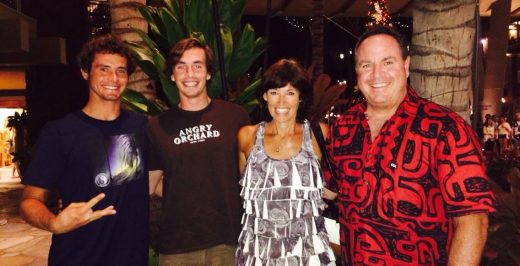 Brad Logsdon has been named complex director of sales and marketing for Sheraton Waikiki and Starwood Hotels & Resorts in Waikiki, as announced by Kelly Sanders, area managing director.
This wish rallied support from more than 40 volunteers who helped bring a fairytale script to life.
The evening was a historical, captivating journey in time that included special moments in the history of the Pink Palace.