The Westin Maui Celebrates Double Victory with Event Leader and Team of the Year Awards
At the 2016 North America Sales Awards for Starwood Hotels & Resorts Worldwide, Inc., held recently in Denver (Colorado), The Westin Maui Resort & Spa clinched Catering & Event Management Team of the Year title for properties in the Catering & Events mid-tier revenue goals.
The resort's Director of Meetings & Special Events, Stephanie Zrelak, was separately awarded Catering & Event Management Leader of the Year.
Westin Maui's Event & Meeting Managers Vita Canizaro and Shelly Bright were also recognized as finalists under the Meeting & Event Manager of the Year category, which highlighted service excellence of both the team and its individual members. Nominations were based on team and individual successes in achieving gross operating revenue, new business development, TeamHOT, MPSI (Meeting Planner Satisfaction Index) and CEI (Customer Experience Index) goals.
The resort's double victory represents significant honor and recognition within Starwood Hotels & Resorts.
According to Westin Maui's General Manager Tony Bruno, the team's meaningful connections and genuine interest in customers' needs as well as collaborative efforts with partners and various departments within the resort were definitely attributing factors towards their resounding success.
"Being in Hawaii, the warm spirit of Aloha is immersed in everything we do. Combined with the full commitment and dedication of our events team in delivering outstanding services, it was a well-deserved win," said Tony.
He was quick to add that the team focuses on effective communication and supporting one another to overcome unforeseen challenges.
"By being creative listeners and understanding the goals of our customers and meeting planners, we are able to create a distinctive experience for attendees," he elaborated.
Stephanie Zrelak firmly believes in adopting a "Can Do" approach to meet and exceed clients' needs.
"At Westin Maui, we have a good amount of repeat businesses based upon past successes and the strong level of connection we have built with group representatives and meeting planners.
We are always aiming towards higher levels of satisfaction and impressing groups who come to expect a certain level of comfort and expertise.
It is also crucial to get to know key players of each group and the business they represent as this ultimately helps us to design a personalized experience and WOW them with our innovative and creative touches," said Stephanie.
"With Westin Maui's idyllic setting on Ka'anapali Beach and its magnificent garden surroundings, the events and sales teams enjoy rich possibilities in designing events that embrace the host culture and natural beauty of the Hawaiian Islands," said Brent Lausterer who oversees marketing and sales efforts for the resort.
He also added that the catering and events team fully support Starwood's TeamHOT initiatives by recommending sister hotels to meeting and group planners seeking alternative destinations after successful experiences in Maui and Hawaii.
In 2015, the team almost quadrupled their leads from 2014.
Receive nightly resort credit on your next Hawaiian vacation. Choose from participating resorts on Kauai, Oahu, Maui and the Big Island.
An alluring beach, sumptuous spa, glorious views, and an aquatic playground with five freeform pools and a thrilling waterslide.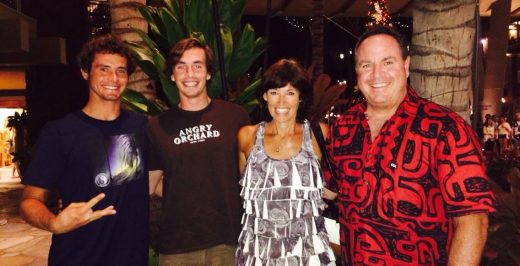 Brad Logsdon has been named complex director of sales and marketing for Sheraton Waikiki and Starwood Hotels & Resorts in Waikiki, as announced by Kelly Sanders, area managing director.
This wish rallied support from more than 40 volunteers who helped bring a fairytale script to life.
The evening was a historical, captivating journey in time that included special moments in the history of the Pink Palace.