Westin Maui Celebrates May Day with Longest Lei Exchange
May Day is Lei Day in Hawaii and this year the Westin Maui Resort & Spa is celebrating the cultural and vibrant holiday with an attempt to set a record for the Longest Lei Exchange, among a few other celebratory festivities. Best of all, you're invited to join in on all the May Day the fun!
If you're interested specifically in participating in the Lei Exchange, you'll want to arrive early at 7:30am to check-in. Believe us – you want to participate! In addition to the Lei Exchange, the day will also include a craft fair and Lei Day activities at the resorts Aloha Pavilion (details below).
Can't participate in the Lei Exchange on Ka'anapali Beach? No problem. The Westin Maui invites those unable to attend in person, to participate in a virtual lei exchange! Images of nine beautiful lei crafted by lei maker Pamakane Lopes of Ocean Dreamer Florals will be made available on Westin Maui's Facebook Page on May Day for all to share. Pamakane's nine lei highlight the diversity of Maui's scenic settings and experiences featuring locations such as Haleakala, Kula, Hana, Paia, Iao Valley, Makawao, Ulupalakua, Honolua Bay and Ka'anapali.
Recognizing the importance of preserving the Hawaiian culture, The Westin Maui Resort & Spa is also committing $2,500.00 to benefit the cause of Na Leo Kalele that supports Kula Kaiapuni O Maui Ma Nāhiʻenaʻena, a Hawaiian language immersion school located within Princess Nāhiʻenaʻena public school in Lahaina, Maui. Considered a school within a school, Kula Kaiapuni O Maui Ma Nāhiʻenaʻena is unique in that it utilizes Hawaii's indigenous language, culture, perspectives, and practices to implement its curriculum.
Event Details
Monday, May 1, 2017
7:30 am – Check in at Aloha Pavilion, The Westin Maui Resort & Spa
8:30 am – Hawaiian Blessing Ceremony with Oli Chant & Hula
8:45 am – Participants begin lining up on the beachwalk side fronting Westin Maui
9:00 am – Lei Exchange begins
9:30 am – Craft Fair & Aloha Lei Day Activities at Aloha Pavilion
Participation is free.
Register for the Longest Lei Exchange.
Hawaii News Now – KGMB and KHNL
Receive nightly resort credit on your next Hawaiian vacation. Choose from participating resorts on Kauai, Oahu, Maui and the Big Island.
An alluring beach, sumptuous spa, glorious views, and an aquatic playground with five freeform pools and a thrilling waterslide.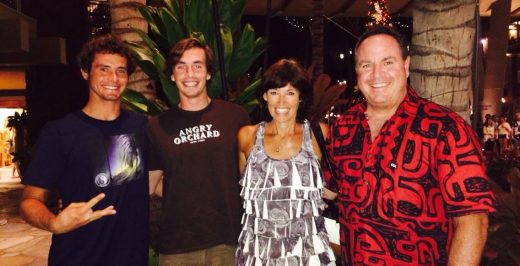 Brad Logsdon has been named complex director of sales and marketing for Sheraton Waikiki and Starwood Hotels & Resorts in Waikiki, as announced by Kelly Sanders, area managing director.
This wish rallied support from more than 40 volunteers who helped bring a fairytale script to life.
The evening was a historical, captivating journey in time that included special moments in the history of the Pink Palace.