Westin Maui Wins Excellence In Sustainability Award
The
Westin Maui Resort & Spa
took home Excellence in Sustainability award at the 2016 'Aipono Restaurant Awards ceremony held most recently in Maui, Hawaii.
Sponsored by Maui No Ka 'Oi Magazine, the 'Aipono Awards annually recognize the best of Maui's food, wine and hospitality industries as determined by ballot by the readers of Maui No Ka 'Oi.
More than 400 restaurant professionals and industry supporters attended the 2016 'Aipono Gala, a fundraiser for the Maui Culinary Academy at the University of Hawaii (UH) campus in Maui.
Managed by Westin Hotels & Resorts, one of the eleven brands under the umbrella of Starwood Hotels & Resorts, The Westin Maui Resort & Spa unquestionably achieved an elevated level of innovation through various sustainability efforts.
The resort is also actively involved in Starwood's landmark environmental initiative 30/20 by 20, which calls for a 30 percent reduction in energy use and a 20 percent reduction in water consumption per built hotel room globally by 2020.
Westin Maui's Sustainability Champion Sulinn Aipa works closely with leaders and associates from various departments within the resort in driving the resort's eco-friendly revolution and promoting a healthy environment for associates and guests alike.
Their powerful commitment to transform the property and its services into a greener operation also helps reduce the impact of business activities within the environment and move towards a long term goal of carbon reduction.
These include nurturing a culture of sustainability through Malama Ka Aina i Ke Kai (care for the land and the ocean) projects.
"Winning the Excellence in Sustainability award is an honorable distinction that would not have been possible without the passion of our teams and associates who support the countless initiatives in place," said Sulinn.
She also credited organizations and community partners for their support including Pacific Biodiesel Technologies, Maui Eko Systems, West Maui Ridge 2 Reef, West Maui Kumuwai, Coral Reef Alliance, UH Maui College and Maui Cultural Lands.
According to Westin Maui's general manager Tony Bruno, resort guests comprising of both leisure and business travelers are choosing hotel brands that reflect their desire to reduce the global footprint.
"The Westin Maui Resort & Spa has long been a champion of sustainability and we are excited to meet and exceed their expectations," said Tony.
He added that the resort had also invested in capital improvements including spending over 70 million dollars for complete redesigning of the resort's Ocean Tower, LED lighting and mechanical system upgrades.
Leaders and associates at The Westin Maui Resort & Spa continue to integrate sustainable and social responsibility practices into food & beverage, housekeeping and landscaping operations within the resort's 12-acre surroundings on Ka'anapali Beach.
These include restaurant menus that support local farmers and remove threatened seafood varieties as well as utilizing biodegradable takeout containers. Sustainable landscaping practices led by resort landscaping manager Duane Sparkman include composting green waste, installing rain gardens and using reef-friendly fertilizers.
Resort executive sous chef Ikaika Manaku is also championing sustainable workforce within the culinary industry through resort internship programs and partnership with the Alternative Learning Center at Lahainaluna High School in Maui.
In celebration of Earth Day, the resort is inviting associates, resort guests and general public to join them in a Morning Beach Clean-Up to help remove trash and debris from Ka'anapali Beach.
Held at the resort's Ocean Front Lawn, the one-hour activity will begin at 7:00 am on April 22, 2016.
"We would like to attribute this effort to the Hawaiian voyaging canoes, Hōkule'a and Hikianalia, and their Malama Honua journey around the world to learn, create global relationships, and explore how to care for the Earth and Oceans," said Sulinn.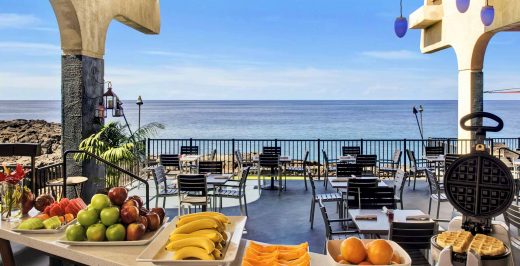 Enjoy daily breakfast for two at participating resorts on Kauai, Oahu, Maui and the Big Island.
An alluring beach, sumptuous spa, glorious views, and an aquatic playground with five freeform pools and a thrilling waterslide.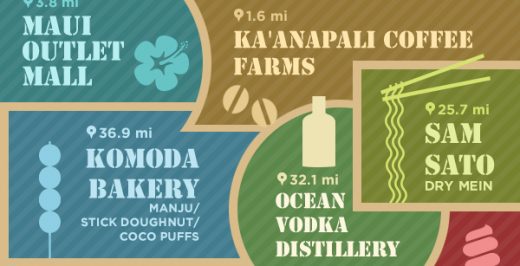 We polled some of our Starwood Hawaii resort team members to find out some of their favorite places to hang out.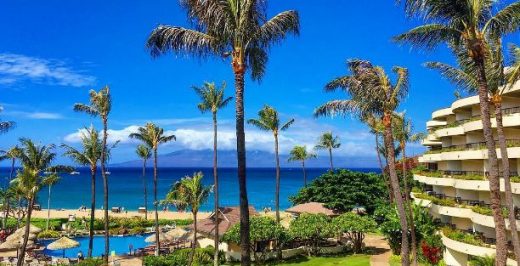 This week's top guest social pics feature the stunning views from guest room balconies.
The Splash Bar at the Sheraton Princess Kaiulani Hotel recently launched it's new menu and we're loving everything about it.